Today, I would like to invite you to try some of the food I have been missing/craving since I left Korea in early December.
I have made this recipe a few times, and it is nothing short of really, really great. I replaced white sugar with brown sugar, and added slices of Kiwi to tenderize the meat. For vegetarians, or those who don't eat red meat, this recipe works well with portabella mushrooms, tofu, salmon and chicken.
Beef Bulgogi
Ingredients
1 pound flank steak, thinly sliced
5 tablespoons soy sauce
2 1/2 tablespoons white sugar
1/4 cup chopped green onion
2 tablespoons minced garlic
2 tablespoons sesame seeds
2 tablespoons sesame oil
1/2 teaspoon ground black pepper
Directions
1.Place the beef in a shallow dish. Combine soy sauce, sugar, green onion, garlic, sesame seeds, sesame oil, and ground black pepper in a small bowl. (If you prefer your food spicy, add Chili Powder to taste. Pour over beef. Cover and refrigerate for at least 1 hour or overnight.
2.Preheat an outdoor grill for high heat, and lightly oil the grate.
3.Quickly grill beef on hot grill until slightly charred and cooked through, 1 to 2 minutes per side.
Beef Bulgogi is really good over rice, or with lettuce to make Korean lettuce wraps, but I am a big fan of serving it over the Korean noodle dish called
Japchae
.
Japchae


12 Ounces Korean Vermicelli (Sweet Potato Noodles)
Bring a large pot of water to a boil. Once it is boiling, turn off the flame, and add noodles. Allow the noodles to soak for 5 to 10 minutes until they are pliable. Strain the noodles and set them aside.

1/2 Cup Shitake Mushrooms
1/2 Cup Regular Mushrooms
1 Cup Onion
1 Cup Carrots
3 Cups Red Bell Pepper

Slice all vegetables into thin strips and mix together in a bowl. Add to the bowl 3 cloves of minced garlic, 4 Teaspoons Soy Sauce, 4 Teaspoons Sugar and 4 Teaspoons Sesame Oil. Allow the vegetables to marinate for a few minutes, before sauteing them in vegetable oil for 3 to 5 minutes. Set the vegetables aside.

To make the sauce for the noodles, called Yangnyumjang Sauce, you will need...
3 Tablespoons Soy Sauce
1 Tablespoon White Sugar
1 Tablespoon Brown Sugar
1 Tablespoon Honey
1 Tablespoon Rice Wine
1 Tablespoon Sesame Oil
1 Tablespoon Sesame Seeds
1 Teaspoon Salt
1/2 Teaspoon Black Pepper
2 Tablespoons Chopped Green Onion
1 Teaspoon Grated Fresh Ginger
1 Teaspoon Minced Garlic
1/2 Cup Fresh Cilantro (Cilantro is not used in Korean food, but, let's face it, this is not Korea, and cilantro is damn good)

Mix all of the sauce ingredients together and set aside.

Directions
Heat 1 Tablespoon of Vegetable Oil in a pan over medium-high flame. When it begins to sizzle, add half of the Yangnyumjang Sauce and 1/4 Cup Water. Add the noodles, stir-frying for 5 ish minutes.

Combine the noodles, the vegetables and the remaining sauce in a large bowl. Serve chilled or room temperature.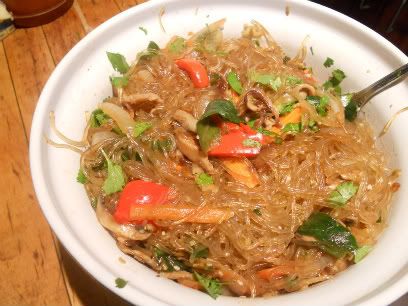 On a side, somewhat related note, check out my friend's blog, My Vagabond Kitchen, featuring delicious recipes and stories of her travels. Check it out at http://myvagabondkitchen.blogspot.com/